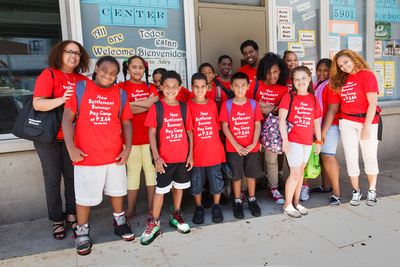 The CCF partnership of philanthropic and corporate donors, Enterprise, LISC and the NYC Center for Economic Opportunity, have seen that nonprofits with strong community ties and core competencies in housing, education and jobs, are well-positioned to change the outcomes for individuals and families stuck in poverty. 
The collaborative is providing $1 million, distributed over four years, to each grantee to develop and implement innovative programs that integrate services — both within their own organization and with others.
Our four grantees collectively serve more than 8,500 people per year in CCF-supported programs; that number increases each year, as does the number of people participating in more than one program, leading to better outcomes.  The students they are assisting to get into college are staying in college, far above the national average, average wage one year after placement continues to increase, now at $12.49. These grantees are also significant providers of affordable housing in their areas; in the first 2.5 years, they have developed more than 300 affordable apartments. Today they provide housing for over 6,000 households, many of them very low-income and formerly homeless people.
CCF's funding approach is yielding progress because it is:
Focused: aimed at improving outcomes in specific, targeted neighborhoods;
Flexible: encouraging grantees to innovate and enabling them to integrate their programming to provide the array of services individuals and households need; and,
Data-driven: building the capacity of nonprofits to follow the progress of program participants in real time, to adjust programs based on results, and to make an evidence-based case for what works.
Community-based nonprofit service organizations need flexible funding to realize the promise of increasing economic mobility in high-poverty neighborhoods. CCF donors hope to partner with government to scale up proven programming to reach whole neighborhoods and to deliver on these organizations' promise of creating communities of opportunity.