Opportunity Youth Expand their Horizons
Over 47,000 young adults, more than 20 percent of all Bronx 16- to 24-year-olds, are neither in school nor employed. In some neighborhoods, that number soars to 35%. The future prospects of these young people is severely limited by the gaps in their education and work skills.
New Settlement Apartments is tackling this problem through their Young Adult Opportunity Initiative (Y.A.O.I), which provides a host of services that address barriers to employment and education. But, NSA doesn't take a one-size-fits-all approach, instead they provide each one of their current 165 participants with an individually crafted plan that sets them on a course toward a productive young adulthood – with a priority placed on continuing their formal education, paid internship placement, paid vocational placement, and/or gaining paid employment.
Their results to date are proof that their approach works. Of the 2016/17 participants:
· 86% completed the intensive 3-month program
· 37 participants gained employment with an $11 per hour wage; 74% remain employed after 3 months
· 22 participants were placed in internships
· 34 participants were placed in job training
· 15 participants enrolled in college
L.R. was one of those participants. Over a concentrated 12-month period – from April 2016 to April 2017 – L.R. benefited from every possible program component and support provided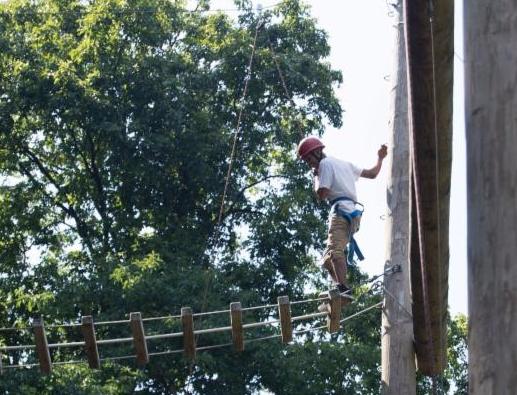 by the Y.A.O.I to meet his educational and employment goals.
L.R. on a trip to Ally Pond Park, where he built his confidence in an out-of-the-box way.
L.R was assisted by NSA's Job Developers in securing seasonal part-time employment at the U.S Open and then secured full-time stock/clerk employment at the Morton's Supermarket in Manhattan where he continues his employment. L.R successfully completed the YAOI Level 1 TASC/GED classes in September 2016 and passed the TASC exam February 2017. He was referred to New Settlement Apartments' College Access Center and was assisted in the submission of his CUNY College Application. He'll be off to college this fall.
BankUnited has joined the Change Capital Fund!
BankUnited joined CCF's 16 donors to support community development in New York City. The bank is now one of eight banks, six foundations, two intermediary organizations and NYC Center for Economic Opportunity, representing the City, which are assisting community development corporations to develop and demonstrate the benefits of neighborhood-based, anti-poverty strategies and to develop business models based on their programmatic success.
Naima Oyo, Vice President Community Development & Outreach said, "BankUnited is thrilled to join the Change Capital Fund. We believe in building the capacity of the organizations that are so essential to the residents of New York City's high poverty neighborhoods. Change Capital Fund is offering what is most needed by community development corporations: flexible, longer-term, larger grants that help them grow to the next level and technical assistance to enable them to track their outcomes in ways that improve their programming."
Steven Flax, chairman of the Change Capital Fund said, "We are delighted to welcome BankUnited as an important new donor to our long-standing collaborative."
Donor News
Enterprise's Judi Kende and Father Michael J. Callaghan of Nazareth Housing write in CityLimits about a proposed program that would eliminate rent burden among NYC's seniors living in rent-stabilized housing.
Patricia Swann, Senior Program Officer, New York Community Trust, will co-chair the Change Capital Fund in its fourth year.
SAVE THE DATE
Advocacy Institute in Action
Applications for the Summer Leadership Course will be launching in May 1st.
This is the Advocacy Institute's most comprehensive program and an amazing way to develop new skills, collaborate with other advocates, and cultivate resilience. Apply here.
The course is available to organizations that are members of the Advocacy Institute. Renew membership or apply for the first time here.
What's the Outlook on Outcomes?
Join the Federal Reserve Bank of San Francisco and Nonprofit Finance Fund on June 5, 2017 for the launch of their new book, What Matters: Investing in Results to Build Strong, Vibrant Communities. This event kicks off a national dialogue on how we can all work together toward lasting outcomes.
Visit investinresults.org or email events@nff.org for more details.