News and analysis July 20, 2016
By Alex Daniels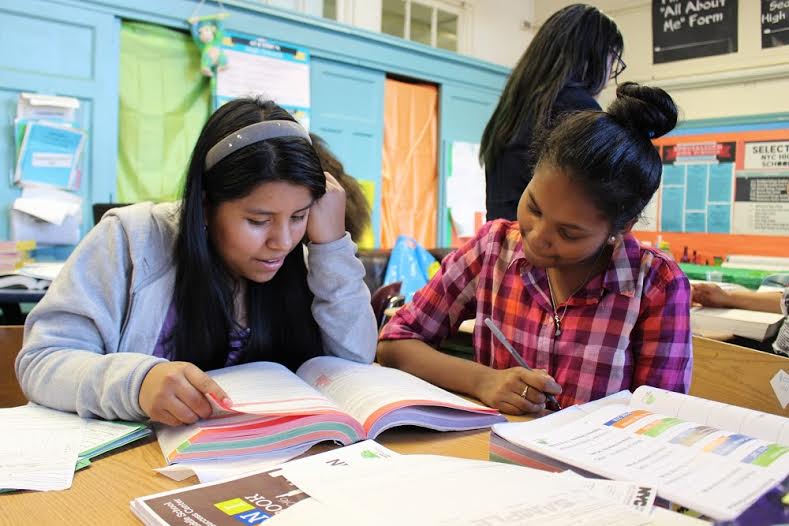 Residents of Cypress Hills have looked to Michelle Neugebauer for help for decades. Since she joined the Cypress Hills Local Development Corporation as its first full-time employee in 1984, she's helped residents of the low-income Brooklyn neighborhood stave off eviction, look for jobs or internships, or get English lessons.
Ms. Neugebauer, now the community-development group's executive director, knows the neighborhood inside out. But a grant from a consortium of 16 New York foundations, corporations, and nonprofits gave her access to data that allowed her to see Cypress Hills with fresh eyes.
"We can now look at the impact we actually have on people in the neighborhood as opposed to just what we want to achieve," she says. "There's a big difference."
Her group is one of four New York nonprofits to receive support from the Change Capital Fund, an effort that began two years ago to help groups working in some of the city's poorest neighborhoods track residents' needs with up-to-date information. Cypress Hills, the Fifth Avenue Committee, and St. Nick's Alliance in Brooklyn and New Settlement Apartments in the Bronx will each receive $1 million over four years to update and integrate their data-collection systems and test new ways to reach people in their communities.
On top of those grants, the consortium provided $400,000 to MDRC, a social-policy-research organization, to help the four groups marshal the collected data, measure progress, and produce studies that other neighborhood groups can use in directing their own work.
A fifth nonprofit, the Brooklyn-based Brownsville Partnership, receives support from Change Capital but dropped out of the cohort being studied by MDRC. Rather than providing direct services to residents that can be measured and analyzed by the research organization, the Brownsville group focuses on working with other nonprofits to create new job-placement systems. It's a gradual process that's hard to measure, according to Rosanne Haggerty, the organization's president.
The premise behind Change Capital is that different approaches will work better in different neighborhoods. The key to success, the thinking goes, is that using data across many areas of a nonprofit can help them simultaneously get a grasp on a variety of challenges.
"Issues in urban neighborhoods are never isolated," says Maria Martinez-Cosio, a sociologist at the University of Texas at Arlington and co-author of Catalysts for Change: 21st-Century Philanthropy and Community Development. "There's always a connection to something else."
'The Environment Had Changed'
Change Capital grew out of an earlier investment pool called the Neighborhood Opportunties Fund run by many of the same donors, among them major banks like Citi, JPMorgan Chase, M&T, and Deutsche Bank and the Altman, Scherman, and New York foundations. Over two decades, that fund spent $25 million to rehabilitate abandoned housing and make commercial districts in poor areas of New York more inviting to businesses.
But as a hot housing market transformed neighborhoods across the city over the past decade, the grant makers saw that many residents were getting left behind, stuck in poverty. They concluded that making antipoverty programs more effective would be a better use of their money than supporting development projects, according to Kevin Ryan, a program director at the New York Foundation.
"We decided to take a step back," he says. "The city environment had changed over time."
The result is an approach that attempts to coordinate various social services under the roof of one neighborhood nonprofit, so that children, parents and grandparents can seek help from a single source.
Even among nonprofit staffs dedicated to helping people with low incomes, unifying those efforts can be "scary," according to one worker quoted in a May progress report by MDRC. It is difficult, for example, to tell an education staffer that the ultimate goal of a project is to improve employment.
"Every program and division has their lens," the employee said. "You're saying all the work that I do is to another end. … There's no way to make these conversations easy."
The Change Capital approach aims to break down those barriers so grantees can share data internally and better determine where and how to direct their attention.
Community-development workers are great at carrying out their own work assignments, like job-placement help or tutoring, and measuring results, says Brandee McHale, president of the Citi Foundation. But too often, she says, they are reluctant to share information with co-workers in other program areas, making them blind to other challenges residents face.
"We've got to look at their [residents'] needs from a myriad of perspectives, rather than delivering services in a fragmented way," Ms. McHale says. "Rather than thinking of their data as proprietary, they're looking at it as a way to … make the case for how working together can produce stronger outcomes."
Data-Driven Social Work
Each grantee spends the Change Capital money differently. St. Nick's, which received other funding to upgrade its data collection, used the grant to hire "transformational coaches" to work with families on a broad range of issues identified by virtue of the new data capacity. New Settlement Apartments is aiming to unite 12 different departments by developing a single mission statement. The group also overhauled its website to communicate how the different programs can work toward a common goal and reworked its orientation process for recent hires so newbies can understand the broader goals of the organization.
At Cypress Hills, Ms. Neugebauer used the grant to hire the group's first director of evaluation and research, Basil Reyes. One of Mr. Reyes's first jobs was to work with the nonprofit's technology staff to integrate 14 separate databases used to track social indicators in the neighborhood. He also helped design ways to use data to clue in workers across the nonprofit's programs about where they might be needed.
For instance, parents who pick their children up at afterschool programs are asked to fill out short forms about their living situation. Ms. Neugebauer says the responses showed that nearly 20 families were behind on their rent or facing eviction. Once fed into the nonprofit's databases, information from the education program gave the executive director and her staff a better sense of where to deploy social workers focused on employment and housing.
"Do we have the right saturation? Are we targeting the geographic area enough? We use data to inform those conversations," Ms. Neugebauer says. Cypress Hills used to pick up on individual residents' needs through referrals, or from personal visits to one of the group's storefront offices. Now, Ms. Neugebauer and Mr. Reyes sort through data and "ping" social workers in the neighborhood to tell them who to visit. The result is a rapid-response system that anticipates residents' needs.
Over the first year of the program, the nonprofit used the data to direct help to families with housing troubles. It convinced 19 employers to hire local residents. And it conducted in-depth tests on the social and emotional competencies of students enrolled in the organization's pre-college program.
"People have to take enormous amounts of time and be really savvy to navigate these bureaucratic systems," Ms. Neugebauer says. "As a community-based organization, we don't want to feed into that. We want to create more access and be as easy as we can be."
View the article here: https://www.philanthropy.com/article/1-Million-Grants-Help/237184